I've been chatting with lots of sales funnel professionals lately. It bothers me that they all speak against websites and promote sales funnels instead. I decided to write this article to explain how to use websites, landing pages, and funnels together. This creates a winning strategy that is sure to land you more customers and more sales. Let's take a look at what each part does and then how they work together.
What Are Websites?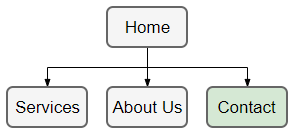 Everyone knows what a website is, but just for clarification let's define it specifically. A website is a collection of related web pages, including multimedia content, typically identified with a common domain name, and published on at least one web server. Websites can have many functions and be used in various fashions; a website can be a personal website, a commercial website, a government website or a non-profit organization website.
Websites can be divided into two broad categories—static and interactive. Interactive sites allow for interactivity between the site owner and site visitors or users. Static sites serve or capture information but do not allow engagement with the audience or users directly. Some websites are informational or produced by enthusiasts or for personal use or entertainment. Many websites do aim to make money, using one or more business models, including:
Posting interesting content and selling contextual advertising either through direct sales or through an advertising network.
E-commerce: products or services are purchased directly through the website
Advertising products or services available at a brick and mortar business
Freemium: basic content is available for free but premium content requires a payment
There are many varieties of websites, each specializing in a particular type of content or use.
Inbound marketing is described as websites optimized to attract visitors through SEO.
What Are Landing Pages?
In online marketing, a landing page is a single web page that appears in response to clicking on a search engine result link or an online advertisement. Landing pages usually display directed sales copy that is a logical extension of the advertisement, search result or link. Landing pages can generate leads. There are two types of landing pages: reference and transactional. We'll focus on transactional landing pages which are for marketing products and services,
Transactional landing pages persuade a visitor to take action by completing a transaction. The visitor information is obtained in order to add the visitor's email address to a mailing list as a prospect. An email campaign can then be developed based on responses to transactional landing pages which typically involves a sales funnel. The goal is to capture as much information about the visitor as possible. The ultimate goal is to convert the visitor into a customer.
Landing pages often contain clear, concise action-oriented headlines.  A good landing page explains the product offer in a clear manner and places visual emphasis on the value of the product or service presented.
Marketing experts recommend landing pages remove the navigation menu and limit internal and external links on the page. The form length mirrors the value of the offer. They may also include a relevant image, animation or short video. These pages also tend to contain small icons (i.e. of Facebook, or Twitter) to facilitate social media sharing.
Landing pages can be optimized for inbound marketing. They are also used as the destination for targeted ads which is known as outbound marketing.
What Is A Sales Funnel?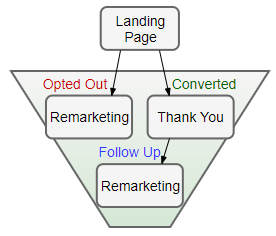 Generally speaking, a sales funnel is a set of activities aimed at a common result. Processes define the best-known way of doing the work or of accomplishing a goal. Sales funnels are used to deliver products or services to customers.
Sales funnels are simply a special kind of service. They differ from other service processes in one primary respect. Visitors taking action provides the value of the sales funnel. For example, a landing page on a website could be considered a kind of sales process. The headline, body copy, testimonials, and call to action create value. They get visitors to the page to provide the requested information (usually their name and email address, etc.). Likewise, a proposal presentation from a salesperson creates value to the extent the recipients accept the proposal and buy what is offered.
Which Do You Use: Websites, Landing Pages, or Funnels?
The short answer is you should be using all three! Build a strategy that attracts visitors through inbound & outbound marketing. Sales funnels do the work of processing visitors.
At the early stages of any project, User X performs a site scan. This scan determines the current state of the website, landing page, or funnel. Once a clear picture is acquired, we build a strategy that will attract, convert and build loyalty by using all of these techniques in concert.