Maintenance Protocol
User X will help you maintain your website and keep it working smoothly.
More Productivity. Fewer Pains.
User X is at the ready for when you need him. This unique way of managing tasks and billing will save you time and money as User X keeps your site up-to-date and your visitors happy.
Suggestions From Industry Professionals
You can benefit from User X's Hero Support Team as they add suggestions for better site conversions and performance to your list of tasks. You can decide to use them or not. 
You Have Total Control
In addition to our suggested updates, you will add every task you need into our system. We estimate the time for each task and meet with you to discuss your budget each month.
Only Pay What You Can Afford
You choose the tasks you can afford and User X makes it happen. At the end of the month, you will receive an invoice containing detailed descriptions of what was done. and we schedule the next budget meeting.
Start Getting Things Done
With User X you can rest comfortably knowing that someone is looking out for you. Monitor progress and interact with the Hero Support Team at any time to ask questions or make adjustments. What are you waiting for? Let's get started!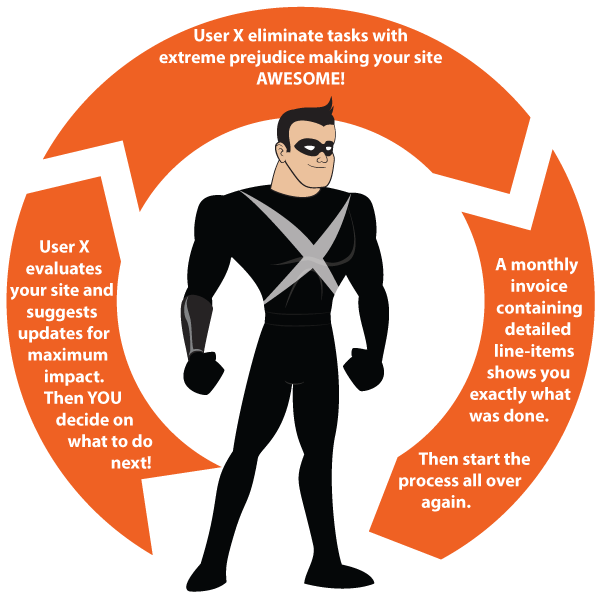 Monthly Maintenance
Billed Monthly Starting At
Add as many items as you like and decide which ones get done first

Monthly site evaluations

Get suggestions for optimized strategies

Fix issues with user flow and site functionality

Update/Add new content to the site

Receive a detailed invoice at the end of each month

Transform your site from zero to HERO!
Let's get started!
Fill out this short form to call on User X and initiate maintenance protocol.