Case Study: United Way South Hampton Roads
New web design and custom online donation system.
There are many great causes of national and worldwide importance. People from all over donate to them. But the only people meeting our local needs – shelters for children, programs for the disabled, meals for the low-income elderly – are those who live here in South Hampton Roads. United Way South Hampton Roads brings businesses and people together with local opportunities.
The Problem:
After performing the User X Site Audit we found that website visitors were not making it past the home page. A poor design matched with an ineffective navigation structure was the issue. The most viewed page was the staff directory; probably because the site was unusable and a real person was required. Even worse is the fact that they were getting ZERO online donations!
The Solution:
User X devised a user flow strategy that drove visitors deeper into the site. We then designed a clean user interface that was easy to navigate. WordPress made it easy to add content and maintain pages.
The new and improved giving forms focused on allowing visitors to give support all throughout the site. The addition of custom admin pages for setting up defaults and looking at giving reports made tracking donations easier too.
The payment gateway was constructed using Stripe, our go-to service for accepting online payments. This allowed United Way SHR to consistently collect donations.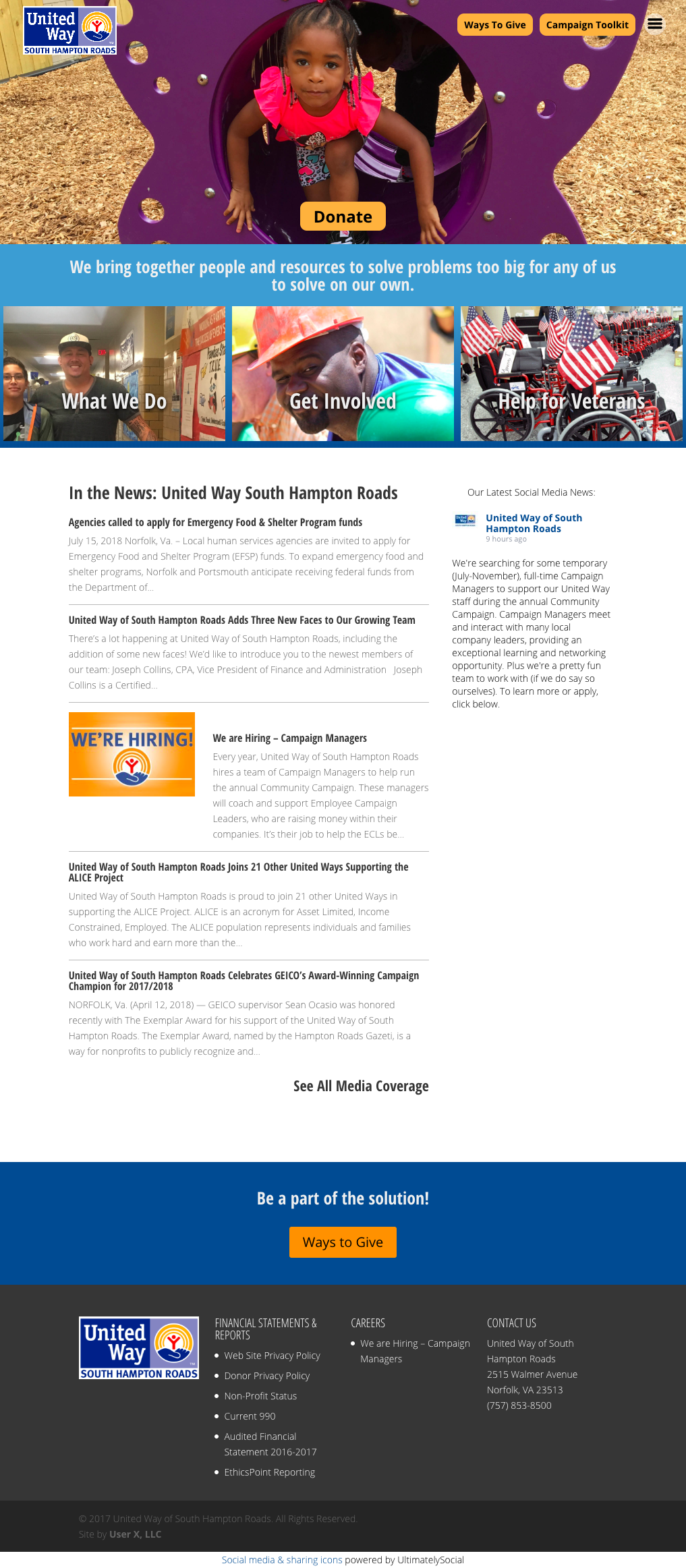 The Results:
As a result of the new website and payment system, United Way SHR received a significant increase in online donations within the first few weeks. Donations have continued to come in consistently thanks to aggressive updates with optimized articles and giving forms. 
Avg. $ Donated Per Month Online
Increase in Organic Traffic
Increase in Social Traffic
User X was instrumental in getting our site back on track. The website was hard to use and we weren't receiving any online donations. User X met with us and really understood our frustrations. We had specific needs and he was more than capable of building exactly what we needed to reach our audience and start collecting online donations effectively. With the new structure we were able to manage content and respond to community needs more efficiently. User X saved the day!
Convert More Visitors Into Customers
For a limited time, User X is offering Site Scan services at reduced rates!